Home :: About :: Body Painting :: Photography :: Digital Creations :: Random Artistry :: The Vault

---
Buy Prints :: Rates :: Facebook :: Videos :: Other Artists :: Contact :: Scam Warnings

Scroll Down for Latest Bodypaintings from FleshandColor
Below you will see the latest images from Fleshandcolor. As new body paints are added they will be featured here first.
Follow the navigation above to view the rest of the body painting galleries.


Share This Page With Your Friends

Click the links below to visit the bodypainting fan page on social media
to get the most recent updates and see exclusive images.





Become a fan and you will see the newest images and interact with the artist. All the cool kids are doing it. ;)

Help support my bodypainting short
film project by clicking the GoFundMe link below
and be entered to win a trip to California to be a part of it.
See campaign for details.





I wanted to paint on darker skin, using the skin as the base with contrasting designs on top. :)




She told me she liked "flame" colors. We did a somewhat celtic design with an absract twist.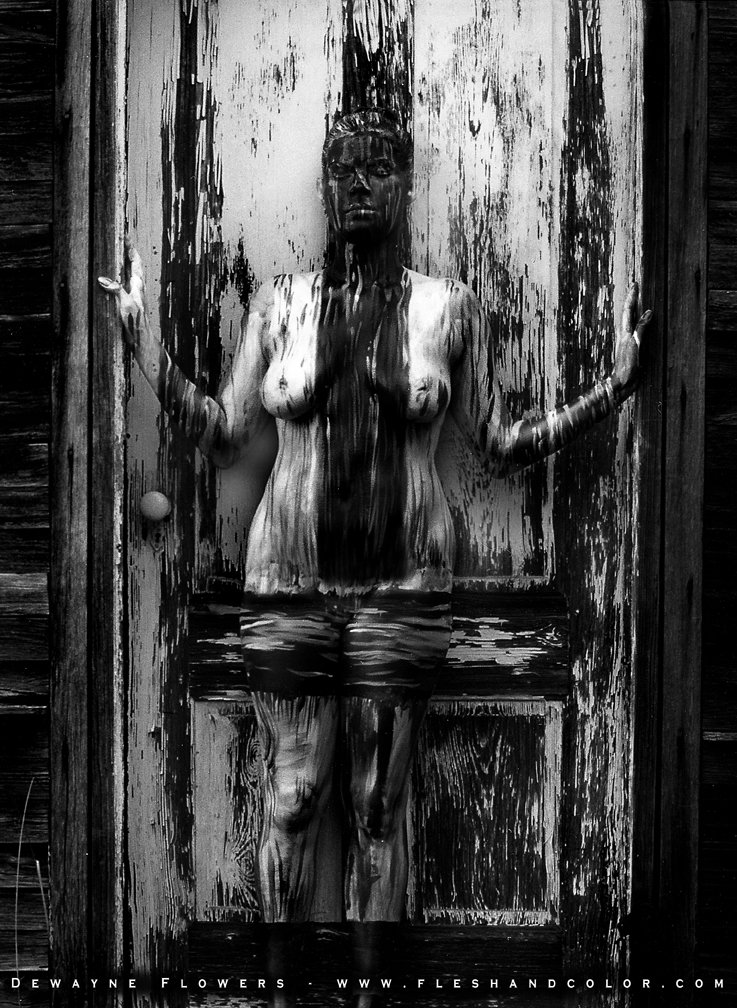 Bodypainting camouflage from 2001. Taken on black and white film and developed it myself. :)




Black basecoat and then a freestyled silver design. :)




Underwater nude photography. :)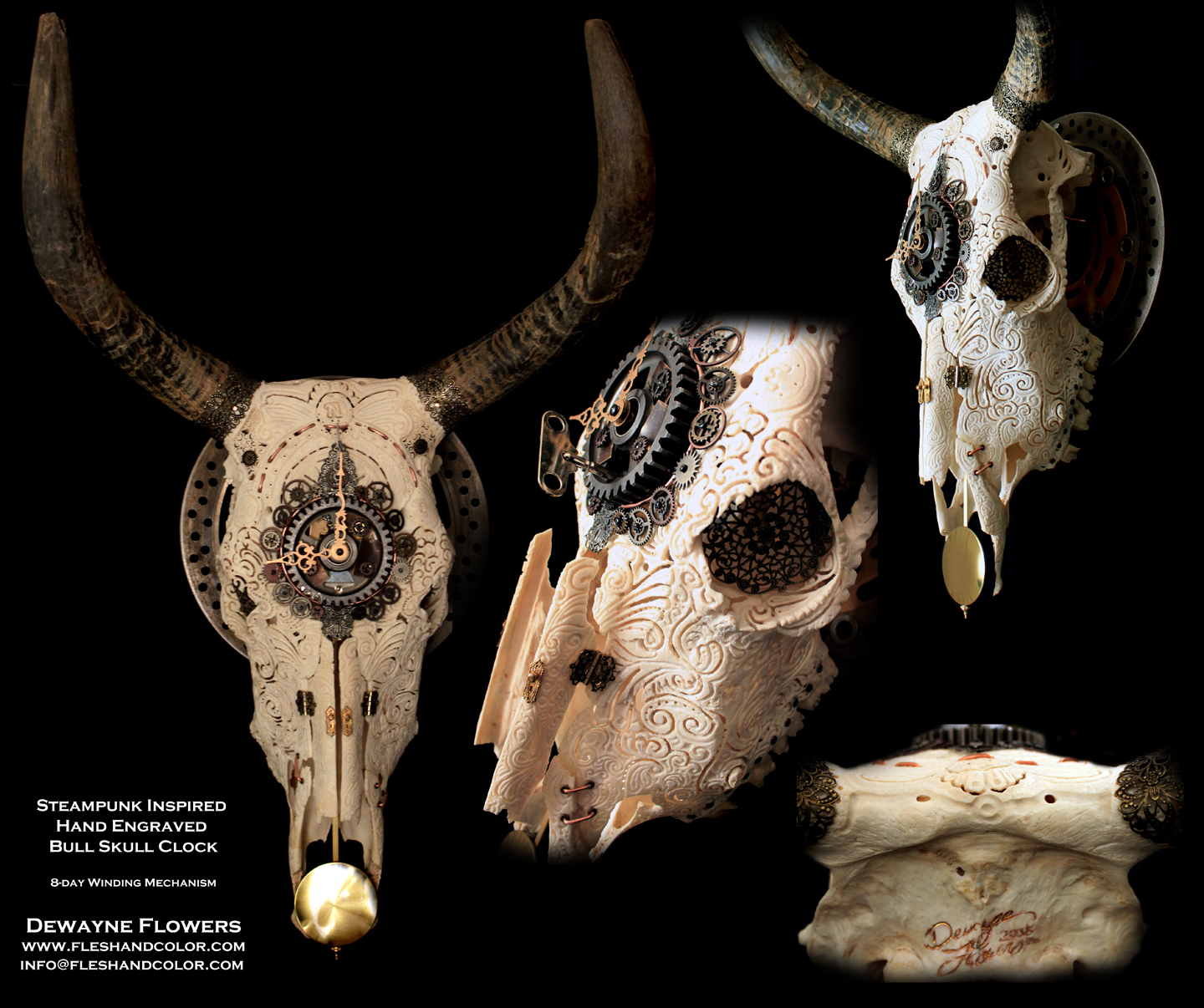 Hand Engraved Steampunk Inspired Bull Skull Clock is complete
and made it safely to its new home in Texas. 100+ hours of
machine and hand tooling went in to this. The clock is a high
quality front winding 8-day mechanism. The pendulum swings
through the cut nose area and the ridges are hinged to open for access.
Real metal/copper/steel, every thing attached is actual hardware with
glue/epoxy for reinforcement. This was my first attempt at this
sort of art and is not the last. Message the page to order yours.
A North American Ram Skull is next.




I was pretty happy with how this painting came out. Using UV makeup / bodypaint, I was able to give this Dia De Muertos
piece a cool 3D (look at it with glasses) look with the roots of the rose almost giving off a veins look.




Henna inspired painting. We just spent the evening painting this design, not Henna, but inspired by Henna designs.




Today was a fun day putting this much detail into these UV paintings. Check them out with 3D glasses.




Simple and clean. I painted her black and then metallic and gave a dissolving look.




Found this oval end table at an antique store and spent about 70 hours
engraving this Ying Yang Koi design into it. Email me to make an offer on the table
The legs come off so shipping is an option.




Had a fun day with this piece. The background canvas was
painted like an older backdrop in the turquoise and browns, very rustic.
I painted the Steampunk style painting on her creating
another robotic piece by base coating her the same as the backdrop
and painting her hourglass abdomen withother gear and mechanical details.




So this was a bit of a miserable afternoon but well worth it.
We had to find a way to paint, pose, spin
the whool, take the shot and not catch on fire while
But, one amazing photo.




"Her Private Mechanisms III" - Had a fun day painting this piece.
As with the others, I start with a base of black and paint the robotic structure
on top and shoot the photo on black to eliminate
the body to give a 3D effect. Hope you enjoy this as much as I do.




This was an earthy mix of some deep reds, metallic gold and blacks.
Threw in a complimenting styling of her hair to help it come out pretty cool.



Played with some UV makeup today. It was a fun set. Painted the "hair" like designs on the backdrop as
a last minute touch to the piece using black light as the light source. I am happy with how this turned out.




Client wanted to be painted with something abstract. I base coated her in orange and then
put an ornate silver design on top and used sparks to light her.
The combination of the make up and bodypaint with the light turned out great.




"His Private Mechanisms" - The significance of this painting is that it is a self-portrait.
I went from losing almost 700lbs, having multiple surgeries to finally this. I spent about 4 hours staring
in a mirror painting backwards and often with my left hand (right handed) to pull this painting off.
So, it goes without saying it is not perfect but I am happy with it. I base coated myself in black
and then painted with metallics on top. In continuing the mechanical themes, this is a piece where the outer skin
has been removed to show the inner workings of a cyborg from a "steampunkish" time.
The waist line actually follows my surgical scars around my waist and I left the jeans to give a bit of a ruggedness to it.




Custom painting as a gift to the client's Gibson playing husband.




Client wanted a painting of her in the cosmos. We were very pleased with this final shot.




This is the latest edition to the FleshandColor collection. I wanted to create a look
of a cyborg being repaired. Based coated in black, painted with metallics on top to create the effect.




Day of the Dead or Dia De Muertos Maternity Painting. Wanted to have a traditional stylized look, not very realistic
and with a little more folk art to it.




Jaws - This is a first in a series of movie posters I am creating. I was very pleased with houw this painted
poster came out. Stay tuned for more. :)




SkinScapes0413 and SkinScapes0413a - This is a commissioned piece for a a beautiful Africian American young lady that just
let me do what I wanted to do. I was very happy with the outcome of these images and I hope you are, too.
The white a teal colors really go well with her skin tone. :)




SkinScapes0213 - This is what you get when you put a tutu on someone's head and paint stripes on them.
It is not a very technical piece but it is cute and sometimes cute is enough to be effective. :)




SkinScapes0213a - This body painting started out as a redo of my older roses work. I literally had a game plan
of what I was going to paint with 17 years more experience under my belt to see the difference.
I got her in the studio and my mind changed. I painted her with my eyes in just a few minutes.
Then I painted what my eyes saw, with my hands, in 8 hours.




SkinScapes0213b - This is a tease from the Tania series. Metallic bodypainting, will upload her full set soon.




SkinScapes0213c - Spent a while on this painting. Normally I would just paint the side I was planning on shooting.
I did her entire body and got a few other poses out of it. Others to come, however, here is the one I set out to do.
It was about 8 hours freestyle, head to toe, front and back.




SkinScapes0113 - This was the last painting of 2012 and we were very pleased with it.
We base coated her in black and did a festive "New Years" look.




Metallic0113 - Metallic Body paint and the always fun "painting with light" photography.




(SkinScapes-Thorns) She is hiding, find her. Painted over the large canvas used in the fairy body painting to use
as a background for this piece. The idea for this image evolved more times than I could keep up with.
I finally decided on what you see here. Behind the scenes shown below.




A quick shot taking during the process of The Thorns painting.







Follow us on your favorite social site above or better yet, all three. :)

All body painting, photography, drawing and other works on this site are
Copyright Dewayne Flowers of Columbus, GA / Georgia
All models on this site are 18 years of age or older at the time of their shoot
with records on file (CLICK---->) Custodian of Records - 2257 Statement.
You understand that this site contains bodypainting nudity of an artistic / artistic-erotic nature.
By viewing this site you state that you are not in any violation of laws for your State or Community
and do realize that this site is a site about artistic expression. You hereby relieve www.fleshandcolor.com
and Dewayne Flowers and any of it's affiliates from any liability caused by viewing this website.
You futhermore agree to all copyright rules and regulations and agree to not copy, use, and/or sell images
from this site without expressed written permission. You agree that violation of said terms
will hold you accountable for any and all damages against www.fleshandcolor.com and Dewayne Flowers that may occur.


To View Flesh and Color's Privacy Policy Click Below.
>>> Privacy Policy <<<




sitemap